Oconee County Sheriff Mike Crenshaw Provides Update on Deputy Shot Thursday Afternoon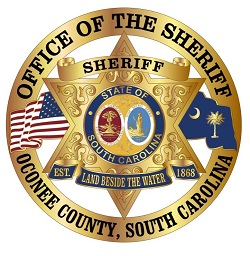 Oconee County Sheriff Mike Crenshaw says that the Sheriff's Office Deputy who was shot in the officer involved shooting yesterday afternoon is in stable but critical condition today.
"I have spoken with the family and with their permission, we are releasing the name and the condition of the Deputy who was shot yesterday," says Sheriff Crenshaw. "He is Corporal Lucas Watts. He is 27 years old and has served with the Sheriff's Office since March of 2020. Lucas came to the Oconee County Sheriff's Office from the Anderson County Sheriff's Office, where he served for approximately two and one-half years. Corporal Watts is currently assigned to our P.A.C.E. (Pro-Active Community Enforcement) team and serves in our Marine Unit. Lucas is an outstanding Deputy and professionally serves and protects the citizens of Oconee County."
Sheriff Crenshaw says that a fund has been set up for Corporal Watts and his family through Serve and Connect. Sheriff Crenshaw says that 100% funds of the donated through Serve and Connect will go to Lucas and his family.
If you would like to donate, you can do so at the link below: https://serveandconnect.networkforgood.com/projects/211513-cpl-lucas-watts-recovery-fund
"On behalf of the men and women of the Oconee County Sheriff's Office, I would like to thank everyone who has prayed for Lucas, his family, our Deputies and all law enforcement at this time," says Sheriff Crenshaw. "We have been truly moved by the outpouring of support, which includes the prayer vigil that was held outside of the Law Enforcement Center last night."
"We ask for continued prayers for Lucas and his family in the days and weeks ahead. If you are able to contribute to the Serve and Connect fund to help his family, I know they would be thankful for any support," continues Sheriff Crenshaw. "I also want to thank all the law enforcement and public safety agencies who have reached out to the Sheriff's Office offering their support and those who have, and are helping us, during this difficult time. I want to also thank the paramedics and all the medical professionals who have, and continue, to provide treatment to Lucas both yesterday and today."
Sheriff Crenshaw says that the Oconee County Sheriff's Office will not release any further information regarding yesterday's incident as the ongoing investigation is being conducted by the Greenville County Sheriff's Office.
Sheriff Crenshaw says the family is focusing solely on Lucas, at this time, and requests privacy from any media contact.
According to information available on their website, Serve and Connect was founded by Kassy Alia Ray, Ph.D., after her husband, Gregory Thomas Alia, was shot and killed in the line of duty as an officer with the Forest Acres Police Department in 2015. According to their website, Serve and Connect is "a nonprofit organization focused on fostering positive change through sustainable police-community partnerships."