Oconee County Sheriff's Office Partners with Oconee County SC Sheriff's Foundation for Key Holder Contact Program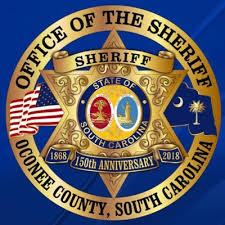 The Oconee County Sheriff's Office, in partnership with the Oconee County SC Sheriff's Foundation, is once again announcing a way that deputies and police officers can assist local business or building owners and churches in regards to open door and suspicious persons calls that come into the E-911 Communications Center.
"We mentioned in our release back on February 26th that our E-911 Communications Center dispatches not only for the Sheriff's Office but also for County Fire and Rescue as well as for the Salem, Westminster, West Union and Walhalla Police Departments," says Oconee County Sheriff Mike Crenshaw. "When we receive alarm calls or calls for suspicious activity at a business, building or church address, we in many cases will not have what is called key holder information. Key holders are those individuals that can be reached to respond to the scene in order to turn off the alarm or respond to other types of calls at buildings, businesses or churches. However, in partnership with the Sheriff's Foundation here in Oconee County, we now have a way to identify and obtain key holder information that will provide assistance to law enforcement officers who respond to these calls for service.
Those businesses, building owners and churches that may be interested in this program can reach out to the Sheriff's Office and its Community Outreach Coordinator, Helen Westmoreland, at [email protected] to have a Sheriff's Foundation official logo sticker placed in the window of their building. The logo sticker will have an individual number on the front, so when a law enforcement officer or fireman responds to the scene, they can give that number to dispatch, whereupon dispatch can use the number which correlates to a database to contact the key holder that is listed so those individuals can respond to the scene.
"In this time period with COVID-19 and businesses and churches either closed or adjusting their hours of operation, the need to have proper key holder information is critical," says Sheriff Crenshaw. "I would encourage the owners of businesses, building owners and churches to reach out to Helen for this additional layer of security for their property."
There is no cost to participate in the program.