Standoff Ended Peacefully in Seneca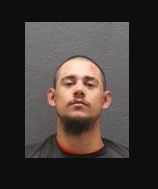 24 year old Melvin Cabrera is in custody after a four hour long standoff tonight. Seneca Police said he surrendered peacefully and without incident.
According to Seneca Police Chief Casey Bowling, at about 6:30pm Tuesday evening, Seneca Police officers attempted to serve warrants on Cabrera at a residence in the neighborhood of South Walnut St. and ES Fifth St.
That's when Cabrera barricaded himself inside the home and refused to come outside, Chief Bowling said…
Cabrera was wanted on six warrants from Seneca Municipal Court, as well as a warrant form Central Police and another for possession of a stolen vehicle. Now, according to arrest records, he's also facing two counts of methamphetamine distribution and one count of grand larceny.
Total bond for Cabrera on his new charges was set at more than $42,000 and he remains in custody at the Oconee County Detention Center.